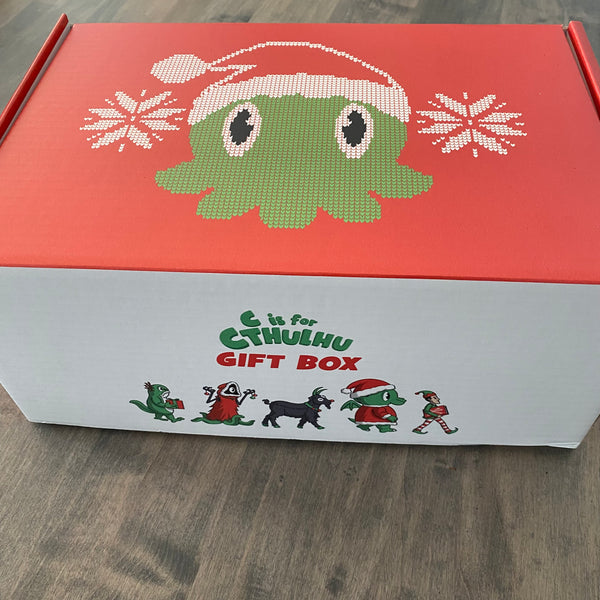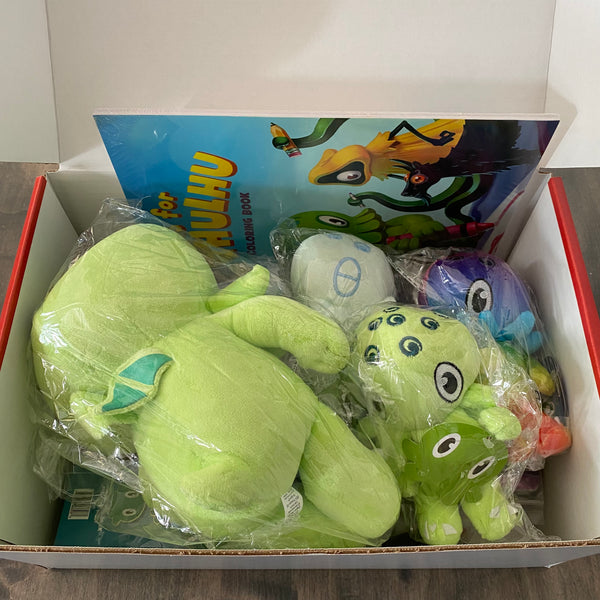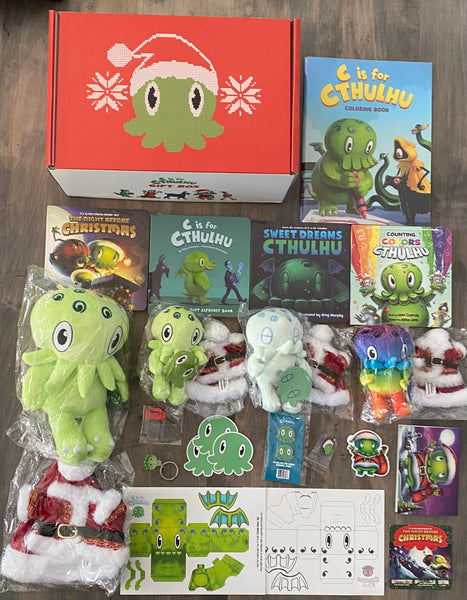 Ultimate C is for Cthulhu Holiday Gift Box
Regular price
$ 359.00
Sale price
$ 299.00
---
Consider your holiday shopping done, because we've packed all our best C is for Cthulhu goodies in this new bursting from the seams Holiday Gift Box Bundle! 
New this holiday season, the ULTIMATE C IS FOR CTHULHU HOLIDAY GIFT BOX is loaded with  our most popular items, and truly makes the ultimate gift to put under the tree for the Cthulhu or Lovecraft fan in your life! 
This holiday bundle begins with our super soft CLASSIC GREEN C is for Cthulhu Plush Toys in both Standard 12 inch and Baby 6 inch sizes. Each plush also comes with a compatible Santa Suit, featuring embroidered suit, hat and belt, so Cthulhu can get all decked out this holiday season! This bundle also includes our beloved Glow-in-the-Dark & Rainbow Baby Plush Toys, which also come with Santa Suits.  Of course, you'll also get our entire library of four acclaimed Lovecraftian children's board books, including: C is for Cthulhu: The Lovecraft Alphabet Book, Sweet Dreams Cthulhu, Counting, Colors & Cthulhu and the new The Night Before Christmas: A C is for Cthulhu Holiday Tale, along with the C is for Cthulhu Coloring Book with a full-color Sticker Sheet inside! But that's not all! Also included is a pair of C is for Cthulhu Glow-In-The-Dark Enamel Pins and our limited edition "winking Santa Cthulhu" Enamel pin, as well as a cast-silver C is for Cthulhu Christmas Ornament, and a 3-pack of C is for Cthulhu Fridge Magnets, including a Santa Cthulhu magnet. You'll also get a limited edition holiday art plate hand numbered and signed by the writer and artist of the new holiday book, plus a Christmas card, and two C is for Cthulhu paper toys, and a C is for Cthulhu Key Chain! 

And everything comes packed in an irresistible, collectible C is for CTHULHU Gift Box ready to stick under the tree!

EVERY ULTIMATE HOLIDAY GIFTBOX INCLUDES:
C is for Cthulhu Gift Box
Classic Green C is for Cthulhu Plush Toy [Standard, 12 in.]
Classic Green C is for Cthulhu Plush Toy [Baby, 6 in.]
Glow-in-the-Dark C is for Cthulhu Plush Toy [Baby, 6 in.]
Rainbow C is for Cthulhu Plush Toy [Baby, 6 in.]
C is for Cthulhu Santa Suit [12 in Compatible]
C is for Cthulhu Santa Suit [6 in Compatible] x 3
The Night Before Christmas: A C is for Cthulhu Holiday Tale Board Book 

[Hardcover]

C is for Cthulhu: The Lovecraft Alphabet Board Book [Hardcover]

Sweet Dreams Cthulhu Board Book [Hardcover]
Counting, Colors & Cthulhu Board Book 

[Hardcover]

 
C is for Cthulhu Coloring Book [Softcover]

Cast Silver C is for Cthulhu Christmas Ornament
Limited Winking Santa Cthulhu Enamel Pin
Glow-in-the-Dark Enamel Pin Set [2 pins]
Santa Cthulhu Fridge Magnet
C is for Cthulhu Fridge Magnets [3-Pack]
Limited Edition Art Plate Hand Numbered and Signed by Writer & Artist 
C is for Cthulhu Paper Dolls x 2

C is for Cthulhu Xmas Card
C is for Cthulhu Keychain
Love it, but looking for something a little smaller? Check out:
C is for Cthulhu Holiday Giftbox 
or
Junior C is for Cthulhu Holiday Giftbox